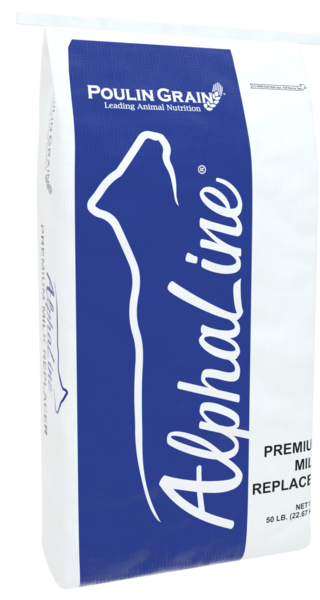 AlphaLine® Milk Builder 25:10
Complements pasteurized milk with enhanced vitamins, minerals, milk solids, coccidia prevention and (seasonal) fly control to assure sleek calf growth.
All Milk Protein: for maximum protein digestibility and utilization by the calf.
Organic Trace Minerals: for optimum bioavailability.
MOS: a yeast extract prebiotic to develop and support a healthy gut microbiome and increase nutrient absorption.
b-Glucan: A natural prebiotic that promotes the innate immune system's ability to fight pathogens.
MCTs: Medium chain triglycerides allow for maximum energy to be quickly allocated to growth and development.
Balanced Fatty Acid Profile: Broader source of energy for growth and optimal weight gain. Mimics whole milk profile for more efficient utilization.
Bovatec®: For control of coccidiosis, and improved rate of gain and feed efficiency.
Clarifly®: Seasonally added to help decrease fly populations by stopping them in their larval stage.
Superior Mixability: Protein encapsulated fats provide unique technology for superior mixing, and improved fat digestibility for increased performance.
(Bovatec® is a trademark of Zoetis, ClariFly® is a trademark of Wellmark International)
Guaranteed Analysis
| | | |
| --- | --- | --- |
| Crude Protein | (min) | 25.00% |
| Crude Fat | (min) | 10.00% |
| Crude Fiber | (max) | 0.15% |
| Ash | (max) | 8% |
| Calcium | (min) | 0.75% |
| Calcium | (max) | 1.25% |
| Sodium | (max) | 1.20% |
| Phosphorus | (min) | 0.70% |
| Vitamin A | (min) | 40,000 IU/lb |
| Vitamin D3 | (min) | 10,000 IU/lb |
| Vitamin E | (min) | 300 IU/lb |
| Lasalocid | (Bovatec®) | 113 mg/lb |
| Seasonally formulated with Diflubenzuron | (ClariFly®) | 45.4 g/ton |
Feeding Instructions
Mixing directions: For calves 130lbs or less, mix 0.25lb (114g) per calf per feeding into at least 2qt final volume. For calves over 130lbs, mix 0.35lb (158g) per calf per feeding into at least 4qt final feeding volume. Feed at 102-107°F. Inspect and clean all feeding equipment daily. Milk builder is designed to provide 1mg lasalocid per 2.2lb calf body weight.
Large batches, 2x feeding: Mix 0.25-0.3.5lbs Milk Builder into half the final volume of 110°F pasteurized milk to be fed. If more calves are >130lb, use 0.35lb/calf. If more calves are <130lb, use 0.25lb/calf. Top off to the final volume and feed at 102-107°F. Agitate the mix while feeding to prevent settling.
Guide for Daily 2x Feeding Rates
Calf Age
Week 1-4
Week 5-8
Milk Builder
0.25 lbs
0.35 lbs
Minimal Final Volume
3 qts
4 qts
Total Milk Builder Powder fed per day
0.5 lbs
0.7 lbs
For individualized feeding schedules for specific breeds, winter feeding, or circumstances specific to your operation, please consult with your Poulin Grain Dairy Nutrition Advisor.
Warning: Do not add other sources of lasalocid to this solution. CAUTION: The safety of lasalocid in unapproved species has not been established. Do not allow horses or other equine access to feed because ingestion may be fatal. WARNING: A withdrawal period has not been established for lasalocid in pre-ruminating calves. Do not use in calves to be processed for veal. The safety of lasalocid in unapproved species has not been established.
General recommendations:
These recommendations are a standard guideline and should be adjusted to individual calf needs.

High quality colostrum should be given within 2-6 hrs of birth to provide at least 200 g of IgG. Feed 2-3 feedings.

Begin feeding milk builder on the 2nd day of life.

Weaning can begin when the calf is over 48 days old and consuming 4 lbs of starter per day for 3 consecutive days.

Fresh water and high-quality starter should always be offered free choice.
Dairy Feeding Guidelines
For Calves and Heifers:
Feed large breed calves 4 quarts of high quality colostrum within 2 hours of birth and again 12 hours later. Adjust amounts for small breed calves. If colostrum quality or quantity is low, consider using a colostrum supplement or replacer.

Offer free choice water from day 2.

Offer free choice calf starter from day 3, starting with a small amount, and increasing as they begin to eat. Calves weaned at 8 weeks of age or less should be consuming 3-4 pounds of starter grain per head per day. Never let calves go without available starter.

Wean calves off milk over a 10-16 day period.

At 12 weeks, gradually switch to heifer grower pellet, offering increasing amounts of hay.
Milk Replacer Feeding:
See product tag for feeding guidelines for optimal biologic growth.

Weigh MR powder every feeding for accuracy and consistency.

Mix MR powder in 110-120° F. water. Feed to calves soon thereafter, at 105° F.

Mix MR powder thoroughly with half of the desired final liquid volume. Add water to reach final volume and temperature; mix or whisk solution thoroughly. Feed immediately.

For large mixing batches, agitate while dispensing to individual feeding containers to prevent settling.
Acidified Milk Replacer Feeding:
Check milk replacer solution pH prior to feeding to ensure 4.0-4.5 pH.

Keep at 70-90°F after mixing and feed free choice via nipple feeder.

Mix fresh every 24-28 hours.

Keep equipment, nipples and hoses clean daily.
Ingredients
Dried whey protein concentrate, dried whey product, lard (preserved with BHA, BHT, and citric acid), dried whey solubles, coconut oil, canola oil (preserved with TBHQ and citric acid), dicalcium phosphate, DL-methionine, L-lysine, yeast extract, calcium carbonate, silicon dioxide, Vitamin E supplement, ascorbic acid, Vitamin A acetate, Vitamin B12 supplement, niacinamide, biotin, folic acid, d-Calcium pantothenate, Vitamin D3 supplement, riboflavin, thiamine mononitrate, pyridoxine hydrochloride, menadione sodium bisulfite complex (source of Vitamin K3), magnesium oxide, choline chloride, iron amino acid complex, zinc methionine complex, manganese methionine complex, selenium yeast, brewers' dried yeast, copper sulfate, potassium iodide, cobalt sulfate, artificial flavor, soy lecithin, polyoxyethylene glycol (400) mono- and dioleates (preserved with BHA), ethoxylated mono and diglycerides
Product and Dairy Resources
Related Products