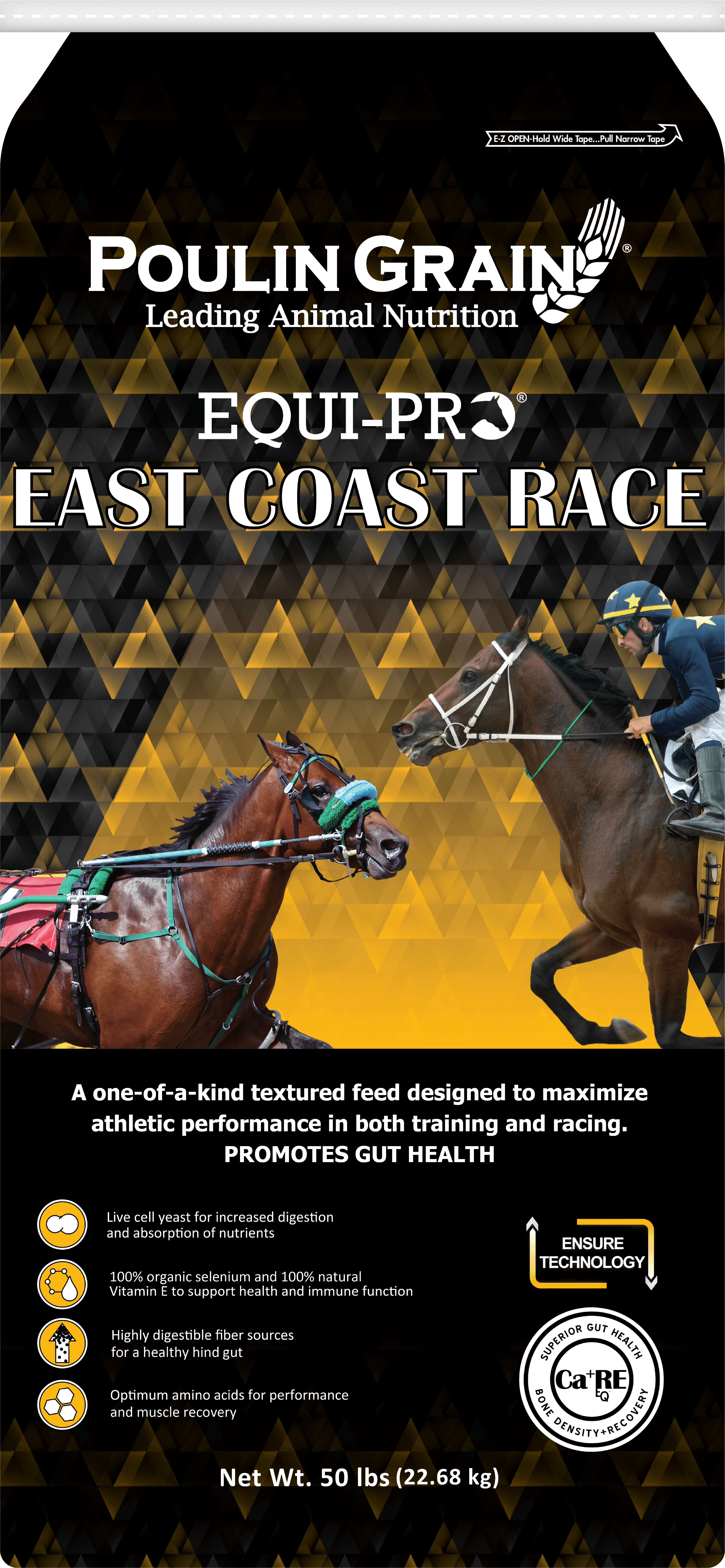 EQUI-PRO® East Coast Race
A one-of-a-kind textured feed designed to maximize athletic performance in both training and racing. PROMOTES GUT HEALTH.
Now featuring Ca+RE EQ™
A highly bioavailable algae derived calcium source for superior gastric buffering, improved bone density and repair, reduction in joint inflammation, and reduced overall stress.
EQUI-PRO® Super Premium Horse Feeds are scientifically balanced for the current phase of life of your horse. Formulated in these feeds is research on growth, energy, digestion, and absorption of nutrients.
For increased glucose utilization and improved immune function, growth and overall health.
Live cell yeast
For increased digestion and absorption of nutrients
100% organic selenium and increased levels of 100% natural vitamin E
To support health and immune function
Optimal balance of vitamins and minerals
Satisfies requirements specific to the northeast USA
Omega 3 and Omega 6 essential fatty acids
For energy, quality hair coat and proper immune function
Optimum amino acids
For performance and muscle recovery
Super fiber sources
Improves digestibility and helps maintain hind gut moisture
Fixed Nutrition Formulas
Consistent and highly palatable nutrition manufactured fresh in our northeast based, family owned feed mill.
Guaranteed Analysis
| | | |
| --- | --- | --- |
| Crude Protein | Min | 13.00 % |
| Lysine | Min | 0.90 % |
| Methionine | Min | 0.38 % |
| Crude Fat | Min | 8.00 % |
| Crude Fiber | Max | 12.00 % |
| Acid Detergent Fiber | Max | 14.00 % |
| Neutral Detergent Fiber | Max | 23.00 % |
| Calcium | Min | 1.05 % |
| Calcium | Max | 1.35 % |
| Phosphorus | Min | 0.75 % |
| Copper | Min | 60.00 PPM |
| Selenium | Min | 0.65 PPM |
| Zinc | Min | 180.00 PPM |
| Vitamin A | Min | 6000.00 IU/LB |
| Vitamin E | Min | 160.00 IU/LB |
| Omega 6 Fatty Acids | Min | 4.10 % |
| Omega 3 Fatty Acids | Min | 0.40% |
| Saccharomyces Cerevisiae | Min | 6500 M CFU/LB |
Feeding Instructions
Feed according to the following chart along with good quality hay (1.5 - 2 lbs/100 lbs of body weight), free choice salt and fresh, clean water.
| Activity Level* | Amount to feed/day (for 1000 lb horse) |
| --- | --- |
| Moderate Performance | 6.0 lb. |
| Heavy Performance | 9.0 lb. |
| Very Heavy Performance | 12.0 lb. |
*This feed is recommended for performance horses only.
Equine Feeding Guidelines
Divide feed into a minimum of two equal feedings. Never feed more than 0.5 lbs of grain per 100 lbs of body weight in a single feeding.
The amount of grain fed to any horse will vary depending on forage quality and availability in addition to the animal's weight, body condition, activity level and age.
All dietary changes should be made slowly over a period of 10-14 days.
If your horse has dental problems or trouble swallowing, this product can be soaked in a small amount of water before feeding.
If you would like to have your horse's diet evaluated to ensure it is balanced for all critical nutrients, please contact your Poulin Grain feed specialist.
Ingredients
Oats, Cane Molasses, Beet Pulp, Cracked Corn, Soybean Meal, Wheat Middlings, Black Oil Sunflower Seed, Soybean Oil, Alfalfa Meal, Mono-Dicalcium Phosphate, Calcite, Calcium Carbonate, Salt, Canola Meal, HCL Lysine, DL Methionine, Live Cell Yeast Pack (Active Dried Yeast (Saccharomyces Cerevisiae), Dried Aspergillus Oryzae Fermentation Product, Dried Aspergillus Niger Fermentation Product, Sodium Aluminosilicate, Dried Bacillus Subtilis Fermentation Product, Dried Enterococcus Faecium Fermentation Product, Dried Bacillus Licheniformis Fermentation Product, Dried Lactococcus Lactis Fermentation Product, Dextrose, Sodium Silico Aluminate, Dried Lactobacillus Acidophilus Fermentation Extract, Dried Bacillus Coagulans Fermentation Product), D-alpha Tocoperol Acetate (source of Natural Vitamin E), Choline Chloride, Zinc Proteinate, Manganese Proteinate, Copper Proteinate, Selenium Yeast, Zinc Hydroxychloride, Manganese Hydroxychloride, Ferrous Sulfate, Chromium Propionate, Copper Hydroxychloride, Niacin, Menadione Sodium Bisulfite Complex, Riboflavin, Pantothenic Acid, Vitamin A Acetate, Thiamine Mononitrate, Biotin, Cobalt Proteinate, Pyridoxine Hydrochloride, Folic Acid, Vitamin B12 Supplement, Vitamin D3 Supplement, Calcium Iodate, Magnesium Oxide, Flavoring, Preservative Pack with Silicon Dioxide, Acetic Acid, Tartaric Acid, Propionic Acid, Benzoic Acid and Sorbic Acid.
Product and Equine Resources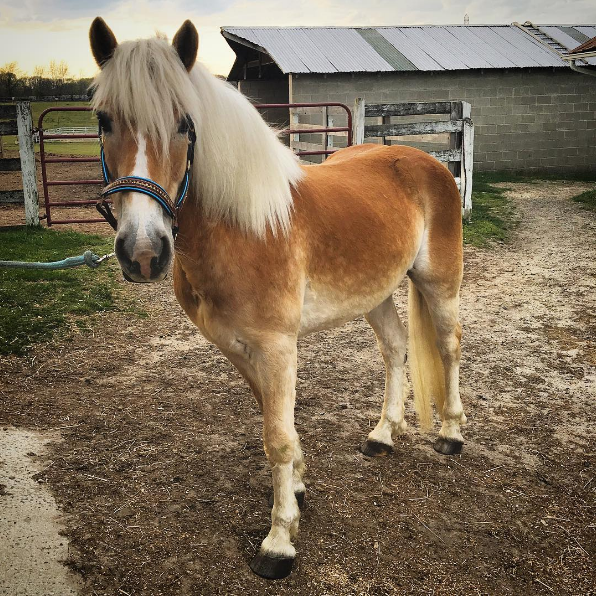 I feed Poulin E-TEC One. Poulin feed definitely makes a huge difference in his energy level and building muscle!
- @juliebirdz via Instagram
SHARE YOUR STORY | #PoulinPowered
Related Products