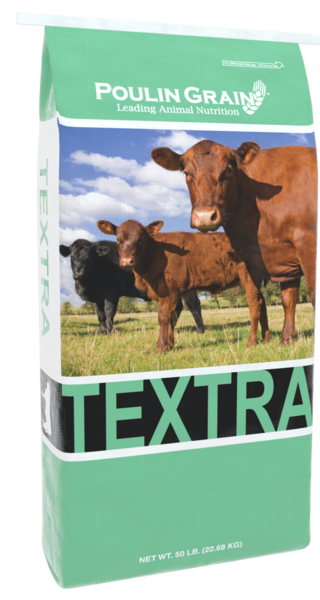 Textra 16%
A high energy textured feed formulated to be fed with good quality forage. This feed may be fed too many different animals.
Fortified with minerals and vitamins

Features quality ingredients to provide consistent and proper nutrition
Guaranteed Analysis
| | | |
| --- | --- | --- |
| Crude Protein | Min | 16.00 % |
| Crude Fat | Min | 3.00 % |
| Crude Fiber | Max | 9.00 % |
| ADF | Max | 12.00 % |
| Calcium | Min | 0.95 % |
| Calcium | Max | 1.25 % |
| Phosphorus | Min | 0.55 % |
| Vitamin A | Min | 5250.00 IU/LB |
| Selenium | Min | 0.50 PPM |
Feeding Instructions
Feed 1 lb to 1 1/2 lbs per 100 lbs of body weight per day.
Dairy Feeding Guidelines
For Calves and Heifers:
Feed large breed calves 4 quarts of high quality colostrum within 2 hours of birth and again 12 hours later. Adjust amounts for small breed calves. If colostrum quality or quantity is low, consider using a colostrum supplement or replacer.

Offer free choice water from day 2.

Offer free choice calf starter from day 3, starting with a small amount, and increasing as they begin to eat. Calves weaned at 8 weeks of age or less should be consuming 3-4 pounds of starter grain per head per day. Never let calves go without available starter.

Wean calves off milk over a 10-16 day period.

At 12 weeks, gradually switch to heifer grower pellet, offering increasing amounts of hay.
Milk Replacer Feeding:
See product tag for feeding guidelines for optimal biologic growth.

Weigh MR powder every feeding for accuracy and consistency.

Mix MR powder in 110-120° F. water. Feed to calves soon thereafter, at 105° F.

Mix MR powder thoroughly with half of the desired final liquid volume. Add water to reach final volume and temperature; mix or whisk solution thoroughly. Feed immediately.

For large mixing batches, agitate while dispensing to individual feeding containers to prevent settling.
Acidified Milk Replacer Feeding:
Check milk replacer solution pH prior to feeding to ensure 4.0-4.5 pH.

Keep at 70-90°F after mixing and feed free choice via nipple feeder.

Mix fresh every 24-28 hours.

Keep equipment, nipples and hoses clean daily.
Ingredients
Processed Grain By Products, Grain Products, Plant Protein Products, Molasses Products, Roughage Products, Calcium Carbonate, Salt, Magnesium Oxide, Zinc Sulfate, Manganese Sulfate, Iron Sulfate, Copper Sulfate, Cobalt Proteinate, Sodium Selenite, Mineral Oil, Cobalt Sulfate, Calcium Iodate, Vitamin E, Vitamin A, Vitamin D, Flavoring.
Product and Dairy Resources
Related Products