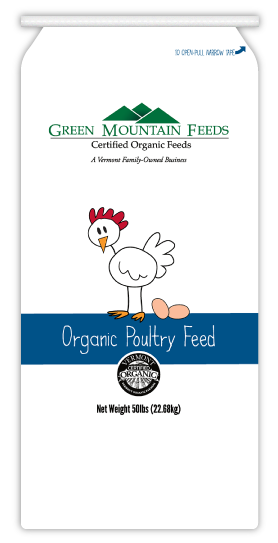 Organic 18% Broiler Grower Crumbles
An 18% protein grower crumble for growing broiler chicks and layer chicks from about 5-6 weeks of age until slaughter or onset of laying.
Our poultry feeds are specially mixed to give your flock the proper building blocks for profitable egg production, weight gain and overall health. We've got the recipe to target your flock's specific needs.
Guaranteed Analysis
| | | |
| --- | --- | --- |
| Crude Protein | (Min) | 18.00% |
| Lysine | (Min) | 0.75% |
| Methionine | (Min) | 0.30% |
| Crude Fat | (Min) | 4.00% |
| Crude Fiber | (Max) | 6.00% |
| Calcium | (Min) | 0.80% |
| Phosphorus | (Min) | 0.50% |
| Salt | (Min) | 0.20% |
Feeding Instructions
Free choice to chicks from 5-6 weeks of age until slaughter, or onset of laying. (or around 15 weeks)
Ingredients
Cornmeal, Roasted Soy, Wheat, Flaxseed Meal, Wheat Middling, House Poultry Vitamin/Mineral Premix, Redmond Salt, Di Calcium Phosphate
Related Products