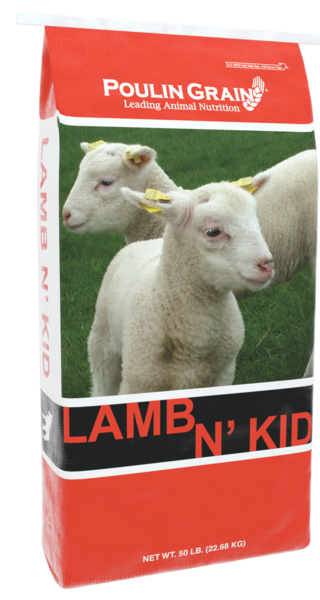 Lamb N' Kid Starter Pellet
A 18% protein pellet formulated to be fed to lambs and kids from about 4-7 days old until the animal reaches about 100 lbs of body weight.
Medicated with Decoquinate to prevent coccidiosis. Since it remains totally in the rumen, there isn't any need to stop feeding Lamb N' Kid before slaughter.

Highly palatable pellet formula.

Inclusion of Yeast Culture which has been proven to increase rate of gain and improve feed efficiency to bring your animals to market size 10-13% faster than feeds without Yeast Culture.

Fully fortified to meet the nutritional needs of rapidly growing lambs and kids.

Ammonium chloride is added to aid in the prevention of kidney stones in young male lambs and kid goats.
Guaranteed Analysis
| | | |
| --- | --- | --- |
| CRUDE PROTEIN | MIN | 18.00 PCT |
| CRUDE FAT | MIN | 3.00 PCT |
| CRUDE FIBER | MAX | 8.00 PCT |
| CALCIUM | MIN | 1.10 PCT |
| CALCIUM | MAX | 1.40 PCT |
| PHOSPHORUS | MIN | 0.55 PCT |
| SALT | MIN | 0.45 PCT |
| SALT | MAX | 0.55 PCT |
| SELENIUM | MIN | 0.50 PPM |
| VITAMIN A | MIN | 7200.00 IU/LB |
Feeding Instructions
Begin creep feeding at about 4 days of age.
Feed free choice to lambs until they reach 100 lbs of body weight. If lambs are to be kept past this weight, they should be switched to Stock NCA Sweet 16% or Sheep Complete Pellet, at this time. If kids are to be kept past this weight they should be switched to Sweet Goat 18% at this time. Supply clean, fresh water at all times. A good quality forage may be offered. If lambs are expected to gain at peak levels, forage should be restricted.
WARNING: Do not feed to sheep or goats producing milk for food.
Ingredients
Wheat Middlings, Corn Meal, Soybean Meal, Distillers Grains, Dehydrated Alfalfa Meal, Molasses, Soy Hulls, Calcium Carbonate, Ammonium Chloride, Salt, Saccharomyces Cerevisiae, Yeast Culture, Magnesium Sulfate, Potassium Sulfate, Magnesium Oxide, Zinc Hydroxychloride, Choline Chloride, Vitamin E Supplement, Ferrous Sulfate, Sodium Molybdate, Manganese Hydroxychloride, Mineral Oil, Sodium Selenite, Vitamin A Acetate, Vitamin D3 Supplement, Niacin Supplement, D-Calcium Pantothenate, Riboflavin-5-Phosphate, Biotin, Organic Soybean Oil, Pyridoxine Hydrochloride, Cobalt Carbonate, Calcium Iodate, Thiamine Mononitrate, Folic Acid, Vitamin B-12 Supplement
Product and Goat Resources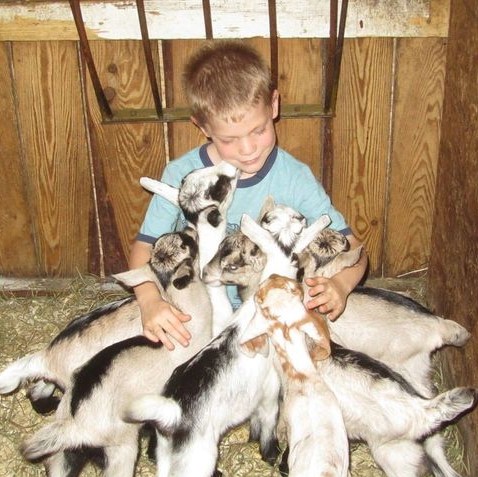 I discovered your grain when a breeder recommended it to me. Since then, I've used it and LOVE it! Just wanted to say thanks for making such a fabulous grain for my goats!
Yvonne M.
SHARE YOUR STORY | #PoulinPowered