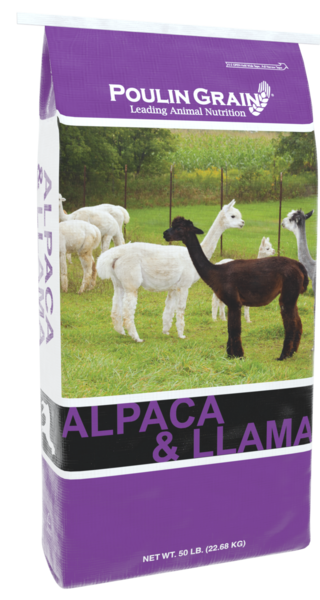 Alpaca & Llama Milk & Cria
Pellet formulated specifically to supply added nutrients and energy for growth, pregnancy and lactation.
Quality Protein - Formulated with high quality protein to optimize health, growth, and pregnancy for mother and cria

Poulin Grain alpaca/llama products are designed to balance Northeast hays and pasture crops.

Fortified with organic trace minerals for greater bioavailability to prevent nutrient deficiencies and improve fleece quality

Low Cereal Grains - Minimizes metabolic problems and preserves balanced stomach fermentation

Biotin Added to promote foot health and integrity

High levels of Vitamin E and Selenium anti-oxidants for improved health and immune function

Vitamin A & D to support proper growth of all body tissues especially epithelium, such as skin, digestive and reproductive tracts and egulates calcium absorption for proper bone development and growth

XP Yeast - Supports healthy microbial fermentation
Guaranteed Analysis
Crude Protein
Min
15.00 %
Crude Fat
Min
3.00 %
Crude Fiber
Max
13.00 %
Calcium
Min
1.00 %
Calcium
Max
1.35 %
Phosphorus
Min
0.50 %
Salt
Min
0.35 %
Salt
Max
0.85 %
Zinc
Min
600.00 PPM
Vitamin A
Min
6150.00 IU/LB
Vitamin D3
Min
3600.00 IU/LB
Vitamin E
Min
800.00 IU/LB
Selenium
Min
0.60 PPM
Biotin
Min
5.00 MG/LB
Feeding Instructions
Alpaca-Amount to feed per day:
Birth - Free choice
Growth - 0.5 lb.
Yearling - 0.5 lb. - 0.75 lb.
Pregnant/Lactating - 1 - 2+ lb. (feed to body condition)
Mature maintenance or thin animals- 1-1.5 lbs (feed to body condition)
Llama- Amount to feed per day:
Birth- Free choice
Growth to yearling- 1 lb
Yearling- 1-1.5 lb
Pregnant/Lactating- 1-3+ lbs (feed to body condition)
Mature maintenance or thin animals: 1-2 lbs (feed to body condition)
Ingredients
Wheat Middlings, Corn Meal, Soybean Meal, Soy Hulls, Beet Pulp, Dehydrated Alfalfa Meal, Molasses, Calcium Carbonate, Saccharomyces Cerevisiae, Yeast Culture, Vitamin E Supplement, Biotin, Soybean Oil, Salt, Magnesium Oxide, Hydrated Sodium Calcium Aluminosilicate, Live Active Yeast, Dehydrated Yeast, Bentonite, Zinc Methionine Hydroxy Analogue Chelate, Zinc Sulfate, Zinc Hydroxychloride, Ferrous Sulfate, Mineral Oil, Selenium Yeast, Sodium Molybdate, Thiamine Mononitrate, Vitamin A Acetate, Vitamin D3 Supplement, Sodium Selenite, Manganese Sulfate, Manganese Hydroxychloride, Cobalt Proteinate, Calcium Iodate, Cobalt Sulfate, Flavoring, Calcium Sulfate.
Product and Specialty Resources
Related Products